We not only promise to deliver GREAT lawn care, but that you will never have to worry about getting dirty again, we do it all. We leave every site immaculate. Prolandscapes NWFL will do everything from mowing to planting, and everything in between. Our full Lawn care Services will not only leave you proud and confident that you chose our company, but also leaving you wondering why you never called us before. We are bonded and insured.
Our Services Include: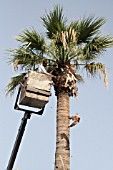 Free Estimates
No two projects are the same. We don't believe in one price fits all, because we won't skimp on your service. We provide accurate, realistic, and reasonable estimates.
Palm Trimming
PALM TRIMMING WILL BE SUBCONTRACTED OUT TO MIKE LISENBY OF LISENBY PALMS WHO HAS BEEN WORKING WITH US FOR YEARS.
trim and shape trees. $15-$30/ TREE

SMALL PRESSURE WASHING JOBS
THIS INCLUDES DRIVEWAYS/ SIDEWALKS/ FENCES/ GARAGE DOORS/ ETC...
Lawn Installation
We will professionally install a lush lawn for you. We get our sod from Mccalls.
Lawn Maintenance
Will maintain your lawn all year long.(Mowing, Edging, Weed Wacking, Blowing off)
Flower Beds and Gardens
Will keep up and maintain a weedless bed. (spraying and pulling weeds)
Irrigation
We maintain irrigation systems. We also replace timers and heads.
Clean Up
Hate raking leaves or hauling debris? Leave it to us. Reasonable rates!
Bush Trimming
We will leave your bushes looking beautiful and designed just how you like.
Pine Straw/ Mulch
We will deliver and lay Pine Straw and mulch. ($6.50/ bail, $6/bag)
Fertilizing
We use only the finest fertilizers to achieve beautiful results. We are partnered with Bay Pest Control for insect and weed control if needed.
CALL FOR YOUR FREE ESTIMATES TODAY! (850) 832 0897